I
Failure is a learning process.
If it were one, Michael Jordan would have not succeeded. 
In order to succeed, we need to take on a growth mindset and to have the confidence and determination to keep learning and working towards our goals.  
Learn the strategies you need to achieve your success for life. 
"i managed to gain more knowledge and insight on how to become a better person to live a fulfilling life to success. The skills and values I've learnt were the best takeaways from this programme. "
~ Tan Ling, Sec 4 student
"The best thing i learnt from the programme is the fact that with an aim and if i work hard towards my goals, there are many ways to achieve my own success."
~ Zubaidah, Sec 4 student
Challenges Addressed 
Low self-worth. Do not believe in one's abilities. Tunnel vision. Lack of class bonding. Uncertain about the future. Lack positivity. Low morale. Low confidence. Not knowing how successful people get to where they are. Afraid of failure. 
Program Highlights

Our "Success for Life – Increase your self efficacy and build inner confidence" Program equips students with the strategies and techniques to build inner confidence, adopt a growth mindset in order to take one step closer to success.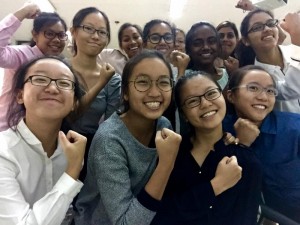 The program is customizable and is designed with the new generation in mind to be fast-paced, engaging and impactful.
Adopt a growth mind-set

Learn about the Ultimate Success Formula of decision making and getting things done

Learn about the impressions you make

Learn how to build inner confidence.
Modules Instruction Methodologies
Audio-visual Presentations. Interactive Facilitation, Hands-on Activities, Competitions, Demonstrations, Presentations, Quizzes, Handouts.
For more information, leave us your details HERE and we will contact you shortly! Or email us at info@savoir-asia.com.