I
 I am not good enough.
Go through your inner thoughts in a day or in the past weeks. Have there been days when you tell yourself you are not good enough? 
This is just one example of a self limiting belief. Self limiting beliefs can come in different shapes and sizes and they can impact our well-being, our decisions, our relationships and our achievements. 
A lot of the challenges we face in life are made more difficult because of our self limiting beliefs. Students need to be aware of this and learn ways to empower themselves to overcome any adversities. Having a longer term vision and a personal branding will also help provide guidance for their long run ahead.
"I learnt the importance of thinking positivity as well as to use empowering words instead of limiting ones. The self-belief segment allowed me to be more self-confident as usually, my problems surface only because of my bad thoughts & the hearts of appreciation segment allowed to spur my friend on as i normally would not have done so. "
~ Sherlynn Heng, Sec 4 student
Challenges Addressed 
Low self-worth. Do not believe in one's abilities. Tunnel vision. Lack of class bonding. Uncertain about the future. Lack positivity. Low morale. Low confidence. 
Program Highlights

Our "Mission Possible – Empower one's self and prepare for future" Program equips students with an awareness of when they limit themselves with certain beliefs, and how to convert the limiting beliefs to empowering beliefs. Together with their classmates, they will learn to appreciate each other, and work together to create their own personal brand and vision.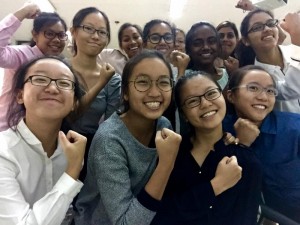 The program is customizable and is designed with the new generation in mind to be fast-paced, engaging and impactful.
Have empowering beliefs

Build bonds and appreciate others

Create your personal brand and vision

Create a class vision
Modules Instruction Methodologies
Audio-visual Presentations. Interactive Facilitation, Hands-on Activities, Competitions, Demonstrations, Presentations, Quizzes, Handouts.
For more information, leave us your details HERE and we will contact you shortly! Or email us at info@savoir-asia.com.