The class seems to be able to bond without me.
I have no friends.
No one helps me take my assignments when i am ill.
Have any of your students implied this?
It might be common to see cliques formed in class and the different factions support only classmates within the same group. There are also those students who might fall below the radar and we may not notice that they are not building positive relationships in the classroom.
Research shows that youths who have higher self esteems and are able to tap on the social network around them for support are more resilient and hence less likely to have psychological disorders. In order to lower the incidences of depression, it is important to be able to create the opportunities for students to develop social support, especially if they do not know how to. 
Allow your students to undertake this mission so that they can start to tell themselves, "I am Possible". 
"They built up class spirit. I'll be honest here, before the past two days, I didn't like my class all that much. I always felt excluded. But right now, I feel much more bonded with my class and not as left out as before. I get the feeling that we can go through hardships together as a class… I appreciate what we have accomplished from this workshop."
~ Lisa, Sec 4 student
Challenges Addressed 
Poor self awareness.  Low self-esteem. Poor social awareness. Do not know how to make friends. Do not know how to communicate with others. Unable to work as a team. 
Program Highlights

Our "Mission I.M.Possible – Build Self Esteem and Positive Relationships" Program equips students with emotional intelligence to build the friendships and social support they need to get ahead. They will also learn to empathize with others and build communication skills.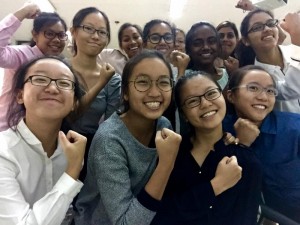 The program is customizable and is designed with the new generation in mind to be fast-paced, engaging and impactful.
Develop self and social awareness

Develop friendship and peer support 

Learn to empathize and work as a team

Build communication skills
Modules Instruction Methodologies
Audio-visual Presentations. Interactive Facilitation, Hands-on Activities, Competitions, Demonstrations, Presentations, Quizzes, Handouts.
For more information, leave us your details HERE and we will contact you shortly! Or email us at info@savoir-asia.com.