Essence of Be Your Best You
We all go through days when we think we are not good enough and this can take a toll on us. What we need is to develop our self-confidence.
Self-confidence is a super power. Once you start to believe in yourself, magic starts happening.
Be Your Best You helps you with that. It brings out the best in you, empowering you to see things through, solidifying your sense of self towards success as defined by you!
"I've learnt to have a more positive outlook and the trainers really walked their talk."  Yong Hwee Lee, 15 yr old  
Challenges Addressed 
Low self awareness . Low self-esteem . Negative self-talk . Poor self-image . Lack of awareness of image & style .  Unaware of lady-like & proper decorum .  Lack knowledge about personal grooming . Do not know how to dress to suit body type . Do not know how to leave a good first impression .  Do not know dining etiquette at formal social functions. Fear of failure
Program Highlights

Our "Be Your Best You – Empowering Confidence & Resilience Building" Programme equips students with greater self-awareness, a stronger support system and various proven tools to build strong self esteem.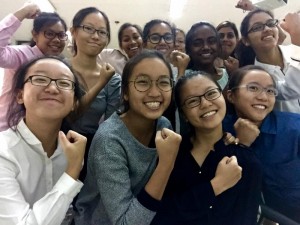 The program is customizable and is designed with the new generation in mind to be fast-paced, engaging and impactful.

Making the First Impression Count

Building Rock Solid Self-Esteem

Top to Toe Personal Grooming Tips

Social Intelligence Building Activities

Resilience – Building Mental Strength
Modules Instruction Methodologies
Audio-visual Presentations. Interactive Facilitation, Hands-on Activities, Competitions, Demonstrations, Presentations, Quizzes, Handouts.
For more information, leave us your details HERE and we will contact you shortly! Or email us at info@savoir-asia.com.